The best known division into skin types is that in normal, oily, dry and mixed skin. A skin type can change during life phases, such as puberty and menopause and during pregnancy. It is important to adjust skin care on it so that the skin remains in good condition. All products from Aurora Dionis Dermacosmetics are suitable for sensitive skin. Moreover, we have a specific collection with mainly single-sided ingredients for a skin that is susceptible to hyper.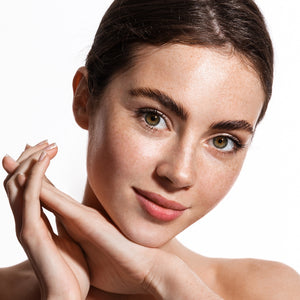 Skin type: Normal
Normal skin has no details of the size of the pores, the thickness of the skin and blood flow. He keeps himself hydrated well, has a good moisture balance and the sebum (skin fat) touches well over the skin surface divided. Normal skin has sufficient to light support for the skin balance. Characteristics of a normal skin type at a glance:
¥ Smooth structure
¥ Pores are not visible
¥ Not soon stain or redness
¥ Almost never pimples
¥ Stays soft, normally after cleaning, no flakes
¥ Does not feel dry or grease to
Products Skin type: Normal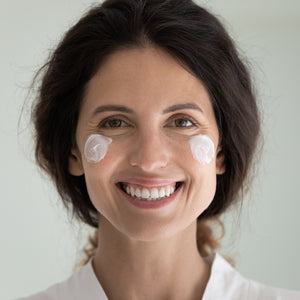 Skin type: Dry - very dry
The dry to very dry skin is thin and has fine pores. The sebaceous glands usually separate less tallow than with other skin types. A very dry skin can be uncomfortably tense and even rough or itch. Dry skin is both low-fat and moisture arm. Dry skin and extremely dry skin needs moisture and rich food. Characteristics of a (very) dry skin type at a glance:
¥ Faster wrinkles and also dry tumble trees
¥ Fast chaste or flaky spots
¥ has a thin texture
¥ Can show fine blood vessels under the skin
¥ Feels tractor and uncomfortable to
¥ Has very fine pores
¥ is relatively fast or often red
¥ Can feel rough

Products Skin type: Dry, very dry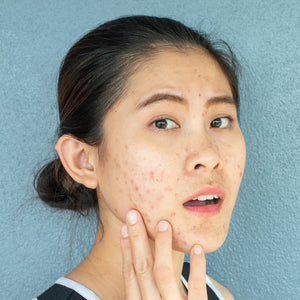 Skin type: Fat
Oily skin has large pores and is thicker than other skin types. He gets rid of relatively quickly and is often bad throughout. Fatting skin can have too active sebum glands, creating an oily layer that increases the risk of acne. Fatting skin does not get wrinkles quickly. The care of this skin does not benefit from aggressive cleaning. Too active cleaning turns the skin to extra respond. A soft cleaning and also coordinated power supply are required to regulate skin balance. Characteristics of a fat skin type at a glance:
¥ Fish fairly fast
¥ The pores are clearly shown
¥ Shows lateral stirrels
¥ Can dryness after cleaning , feeling straight and then shines rapidly again. ¥ is relatively thick ¥ has faster loads of pimples and / or impurities
¥ has arranged black dots
Products Skin type: Fat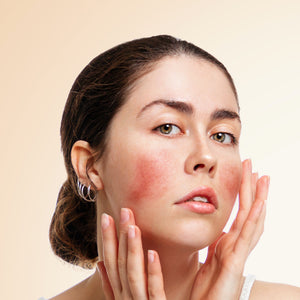 Skin type: sensitive, very sensitive
Most people with sensitive skin know this immediately. The skin reacts quickly. For example on weather conditions, cleaning and care. A sensitive skin can be recognized by redness. We notice that accumulated allergic reaction to incorrect care is a common cause. Avoid allergic substances in care and use care products that do not affect the acid sheath of the skin. Furthermore, sensitive skin needs moisture and nutrition to get the skin balance healthy. Characteristics of skin type Sensitive to a row:
¥ Responds to be red to be red to be red
¥ A tricky feeling after applying cream or makeup
¥ Fierce response to alcohol in cosmetics Sit
¥ After cleaning an uncomfortable and tight feeling
¥ Can show fine blood vessels under the skin
¥ Can respond with stains
¥ Faster wrinkles and lines
Products Skin type: Sensitive, very sensitive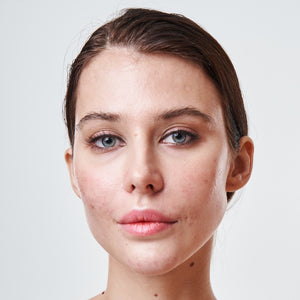 Skin type: Mixed, Combined
With mixed skin, the parts are on the face that are in the 'T zone' (forehead, chin and nose) often something fatter. The rest of the skin is (sometimes) slightly dryer or normal. In fact you will find a combination of both the skin type fat and dry. Mixed skin benefits from a soft cleaning to do not dry out both the skin and do not turn the fattening zones to extra tallow production. The tuned care will contain both moisture and power supply. Characteristics of the skin type Gempted at a glance:
¥ Combination of dry and fatter zones
¥ Cheeks are dryer
¥ T-zone is grease or shine (t-zone)
¥ usually in the t-zone suffer from impurities such as pimples or blackheads
¥ flaky places or chapped cheeks

Products Skin type: Mixed
Skin type: Mature skin
Mature skin is not really a skin type, but stands for the skin where the physiological functions decrease. A typical feature is the increasing formation of wrinkles. Over the years, hormone management changes and the cell metabolism works slower. After a certain age, the skin has specific characteristics:
¥ decrease collagen and elastin
¥ dehydration through the decrease in vascularization, sweat and sebum separation
¥ pigmentation disorders such as & # x27; age spots & # X27;
¥ Faster and increasing wrinkles and lines
Products Skin type: Mature skin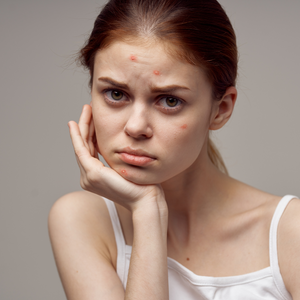 Huidtype: probleem huid
De probleemhuid kan verschillende oorzaken hebben. Roodheid of pijn kunnen symptomen zijn
Welk huidprobleem heb ik?
Questions or doubt?
Leave a message
Is there doubt about which skin type you have or which products best suit your skin? Check the Purchase help or send us a message. We will give you a message as soon as possible!
Huidtype: Vet
Kenmerken van een vet huidtype op een rijtje:
• glimt vrij snel
• de poriën zijn duidelijk te zien
• toont op latere leeftijd rimpels
• kan na reinigen droog, trekkerig aanvoelen en glimt daarna weer snel 
• is relatief dik 
• heeft sneller last van puistjes en/of onzuiverheden
• heeft geregeld zwarte puntjes
Het gebruik van probiotica, alfahydroxyzuur (AHA), silicium, magnesium, vetzuren en cermamidem helpen de vette huid herstellen en de poriën verfijnen van de huidstructuur.